Bekky Beukes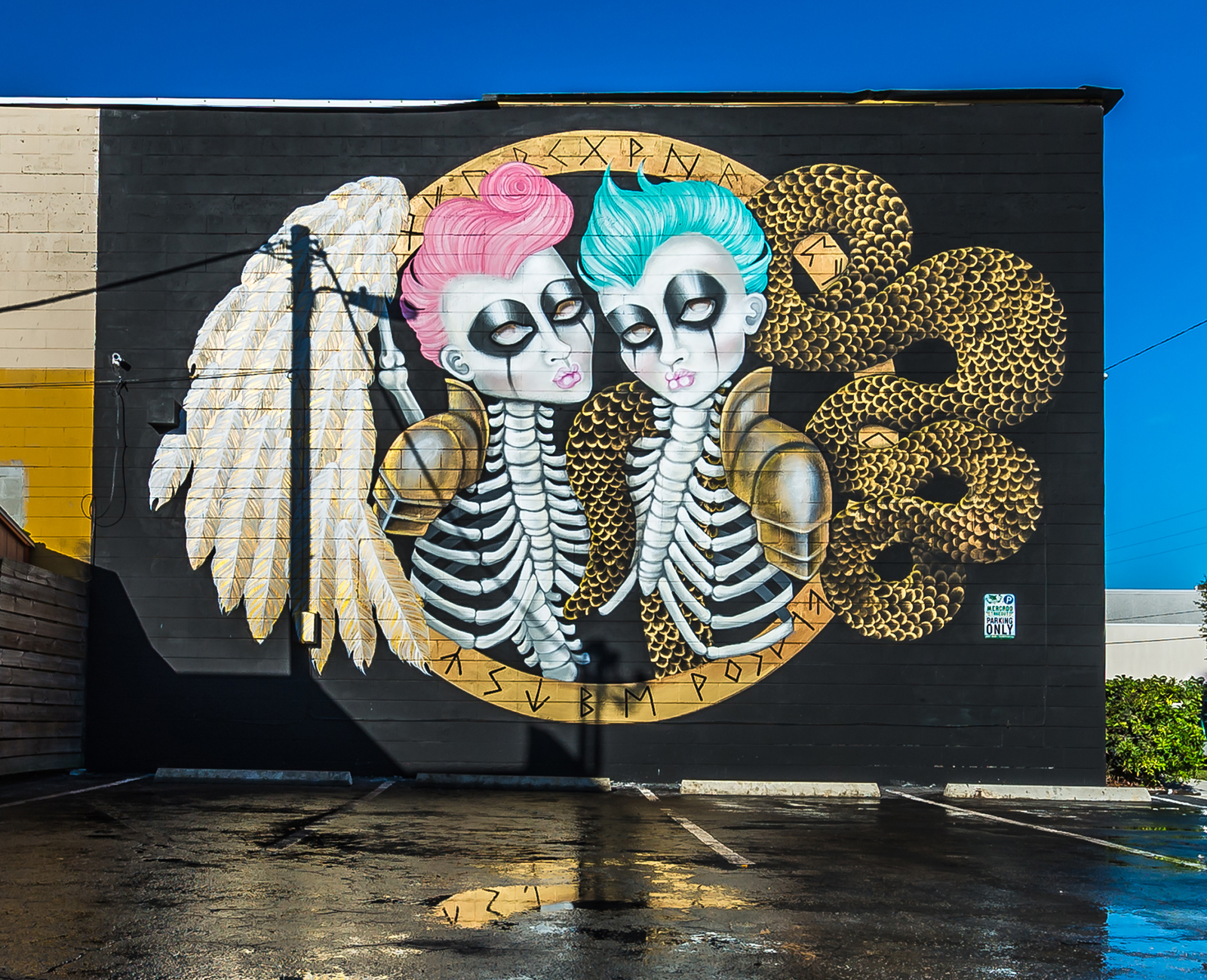 About Bekky Beukes
Based out of:

St. Petersburg, Florida
Originally from South Africa, fine artist Bekky Beukes, explores the internal and external interaction between dark and light, inspiring reflective dialogue through her work. Her evocative ethereal forms and intricately twisted compositions are easily recognizable and can be found throughout the Tampa Bay region on public walls and most commonly in Gallery exhibitions.
This mural by Bekky Beukes is titled Diarchy. It's in the parking lot at 1100 1st Avenue North and replaced a mural by Bask from a previous SHINE festival, with Bask's approval. At 25 feet square, it takes up the entire wall facing the parking lot and stands out as drivers head west on 1st Avenue North.

The background is black. In the center are two fantastical female figures painted from the waist up – an angel and a devil, leaning toward each other in three-quarter profile and looking out at the street.

Their torsos are bare white skeletons, with bronze renaissance armor covering their shoulders. Their faces are angular but full, painted white with overpowering black circles like masks ringing the eyes and pink lips under long, thin noses. A thin line of black trails down each cheek, like tears. Their hair is short and styled so it waves up away from their faces.

The figures of the angel and the devil look almost like twins. But the angel on the left has bright pink hair swept up in a pompadour, and a wing protruding from her back on a long thin bone, that frames her in tall sweeping feathers of white and gold.

The devil on the right has blue-green hair swept up in a pointed punk hairdo. A thick black snake with golden scales, frames her in serpentine curls.

The women are inside a thick gold ring, with angular runic writing around it in black. You can make out shapes and isolated letters, but the words aren't meant to be understood.

Bekky Beukes is from South Africa and emigrated to the US in 2014. She's known for emotionally charged work, fueled by her fascination with internal and external chaos. She combines opposites and creates unnatural collaborations between form.

She says, "I talk about duality in the work, the internal conflict we all endure as humans between light and dark."

Her evocative, ethereal forms and intricately twisted compositions can be found throughout Tampa Bay on public walls and in gallery exhibitions.