Caratoes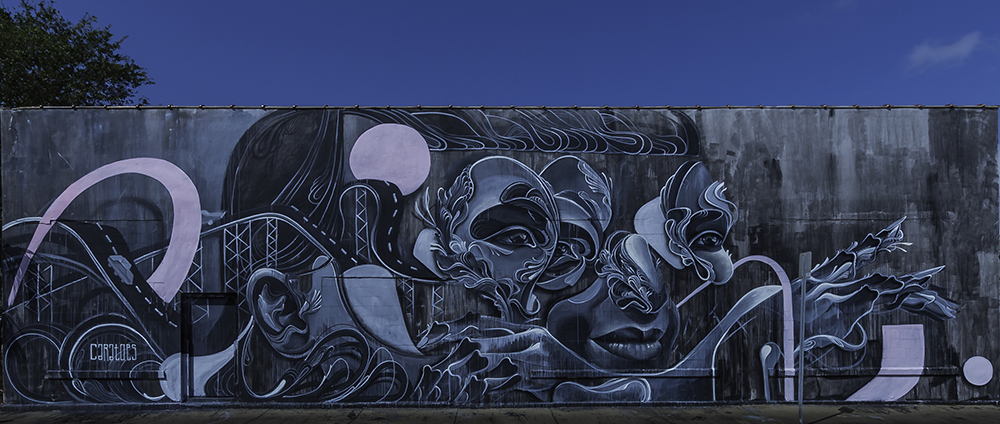 About Caratoes
Born in Belgium, based in Hong Kong, Caratoes is a street artist, illustrator, and "space designer" whose characters can be envisioned living and interacting with the environment they are painted in. Educated in biochemistry and game design, Caratoes' uniquely recognizable artwork can be seen from Singapore to Taiwan to Canada.
This mural is at 2125 1st Avenue South, on the east side facing 21st Street South. It's titled, On the Road, by the Hong Kong artist Caratoes.

The mural covers a large two-story horizontal wall, in peaceful shades of grey. 66 feet wide by 21 feet high. A dark grey woman's face takes up the center, abstracted into separate parts – an ear, an eye, another eye – a third. Full, dark grey lips and an interested, engaged expression, as if she just recognized someone across the street.

Her face takes up most of the mural, so large that the top of her head is cut short by the roof. She's turned slightly, looking north toward Central Avenue. Each separate element of her face is beautiful and calm.

Her image is rising out of buffeting waves of dark water, and on the left, highways, thrust up in the air like rollercoasters. Lacy grey waves splash her nose and frame her eyes, all three of them. The cloudy top half of the mural gives a hint of the original bare concrete wall, weathered and smudged by years of sun and rain. The only color is abstract curves and circles of palest pink, scattered in the grey.

The highways unfurling on the left, and the title, On the Road, are inspired by St Petersburg resident Jack Kerouac's classic novel.

The artist, Caratoes, was born in Belgium, but is based now in Hong Kong. With a background in biochemistry and video game design, she's a street artist, illustrator and "space designer" whose characters seem able to interact with the environment they're painted in.

The woman's face is peaceful, as she gazes over warehouses and parking lots, toward Central Avenue.

Further down this block is the St Petersburg Opera. And behind you, across 21st Street South, is another mural, an enormous octopus sprawling along the alley.