Returning for its eighth year, October 14-23, 2022, the SHINE St. Petersburg Mural Festival once again ignited the City of the Arts with a diverse collection of public art from renowned local, national and international mural artists. The festival, which has received widespread international attention, is an outdoor art exhibition aimed at celebrating art for art's sake. During SHINE, 18 new murals including 3 community Bright Spot murals and 2 painted vehicles were added to the art districts and surrounding neighborhoods of St. Petersburg's downtown. Artists worked working throughout the week to complete their mural before the SHINE Grand Finale.
Shine Mural Festival Events
• October 14: Opening Reception "The Female Gaze" - of A lovingly haunted collection of new works by Perry deVick & Summer Elaine Hu at Mize Gallery from 7-10pm.
• October 15: Morean Arts Center Reception featuring Good Intentions by Tes One and Comes with the Territory: Local Shine Artists from 5-8pm.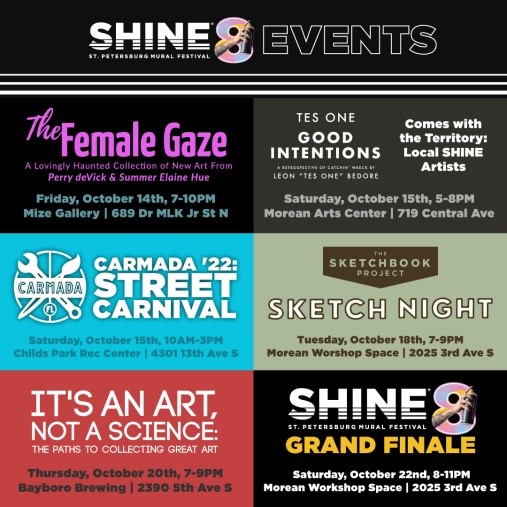 • October 15: CARMADA '22: Street Carnival. SEE Live Art Car Painting, PAINT on the NOMAD Art Bus, MAKE your own Mini Art Car & MORE outdoor fun from 10am – 3pm in Childs Park!
• October 18: Sketch Night with Sketchbook Project – Morean Workshop Space from 7-9pm. Bring a sketchbook (or purchase one) and come draw with SHINE artists! Learn more about the Sketchbook Project and check out some of the artist sketch books from their massive library.
• October 20: It's an Art, Not a Science: Collecting Great Art – Bayboro Brewing from 7-9pm. Join us for an engaging conversation about how to start your own art collection. The panel features a dynamic group of artists and collectors, moderated by the Museum of Fine Art's Margaret Murray.
• October 22: Shine Grand Finale 2022. VIP: 7-8pm General: 8-11pm. Close out another vibrant year at the brand new Morean Workshop Space (2025 3rd Ave S) in the Warehouse Arts District. The finale will feature custom installations from Miami artist Baghead with live painting and performances from Tampa artist Emily Tan, digital installations from Brian Nichols, Stephen Palladino, Acute Perception and YUNGBLD, live screen printing with WOVE and more. This event is free for all to enjoy. One night only. Food trucks, beer and wine available.
Support SHINE®
If you're interested in supporting St. Pete's most vibrant event, sponsorship at all levels is still available. Please contact Jenee Priebe at jenee@stpeteartsalliance.org or visit our SHINE Sponsorship page. 
The SHINE® Mural Festival is an event of the St. Petersburg Arts Alliance, a non-profit, 501 (c)3 dedicated to advocating for the arts and driving arts-related economic impact. We rely on your support to continue producing this world-class event. To make a donation, click here. 
About SHINE®
The annual SHINE® St. Petersburg Mural Festival illuminates the power of art in public spaces by revitalizing areas, inspiring dialogue, and uniting our community—while cultivating new standards of artistic excellence reflecting St. Petersburg's creative and vibrant spirit. By using the walls and streets as canvas, SHINE transforms our shared spaces into a world-class outdoor gallery featuring top contemporary local, national, and international artists. Produced by the St. Petersburg Arts Alliance, SHINE has created nearly 150 murals throughout downtown and the surrounding arts districts since 2015. 
Find SHINE®
The SHINE® Mural Festival is the first in the world to have an accessible audio tour and the technology to instantly connect mural viewers to online content via PixelStix. This interactive technology is now being used by other mural organizations nationwide. 
The SHINE® Mural Festival takes place every October. Follow SHINE on Facebook & Instagram at @ShineOnStPete for event updates!