ZuluPainter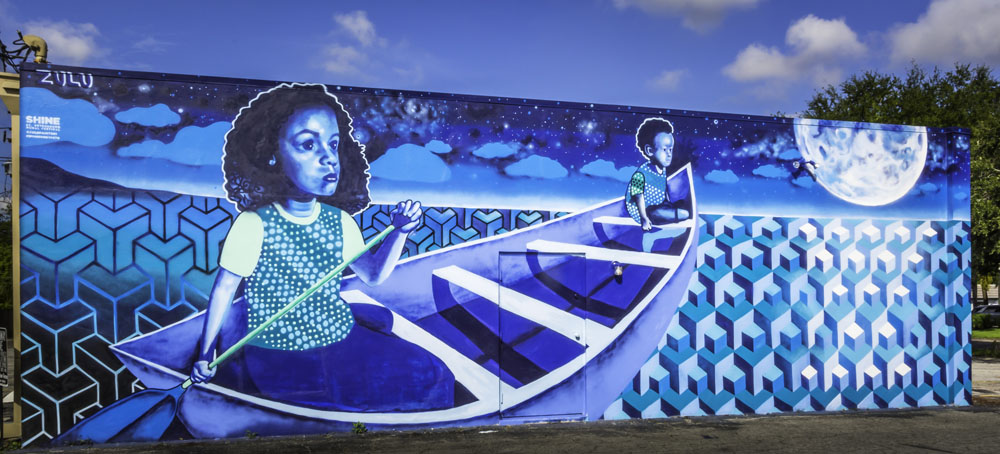 About ZuluPainter
Based out of:

St. Petersburg
Carlos Culbertson, known as Zulu Painter, is a local multi-media artist who works in traditional mediums as well as body paint, special effects and scenic art. An aerosol-based mural artist, Zulu Painter's work can be seen across Florida and whose murals in Historic Midtown has lent to the art revitalization in this bustling area.
Just around the corner from Ali Vasquez's mural, on the eastern wall of 2914 1st Avenue North, is a very different mural by St Petersburg artist, ZuluPainter. While the mural on the front of the building is bright and vivid, this mural on the side is quiet and peaceful.

ZuluPainter and Thirst - Mural SHINE 2016
It's a night scene, titled Moonbeam Dreams – 41 feet wide and 13 feet high, with two African American children in a canoe. Close to us and as tall as this one-story wall is a girl, who's paddling the canoe.

At the front of the boat is a boy, far away from us but close to the giant full moon in the upper right corner, so large that the top of it is cut off by the roof. The children are looking out toward 1st Avenue North with serious, thoughtful expressions. The children are very realistic, with intricate patterns of dots on their shirts. The canoe also appears very real.

The door that opens in the middle of this wall is easy to miss, since it blends in as part of the canoe. The light that's mounted on the wall above this door seems to be mounted on a seat in the canoe, as if the children are traveling with it.

The night sky with stars and galaxies is beautifully realistic, as is the swollen moon that dominates the right corner.

But the water the children are floating in is abstract, made up of dark blue geometric patterns by the artist known as Thirst. Where the moonlight hits this idea of water, the geometric shapes are touched in white, so that the moonlight glows.

On the back of the building is a work by artist Daniel Barojas, known as R5, winner of a St Petersburg Arts Alliance Community Engagement Award.