Ya La Ford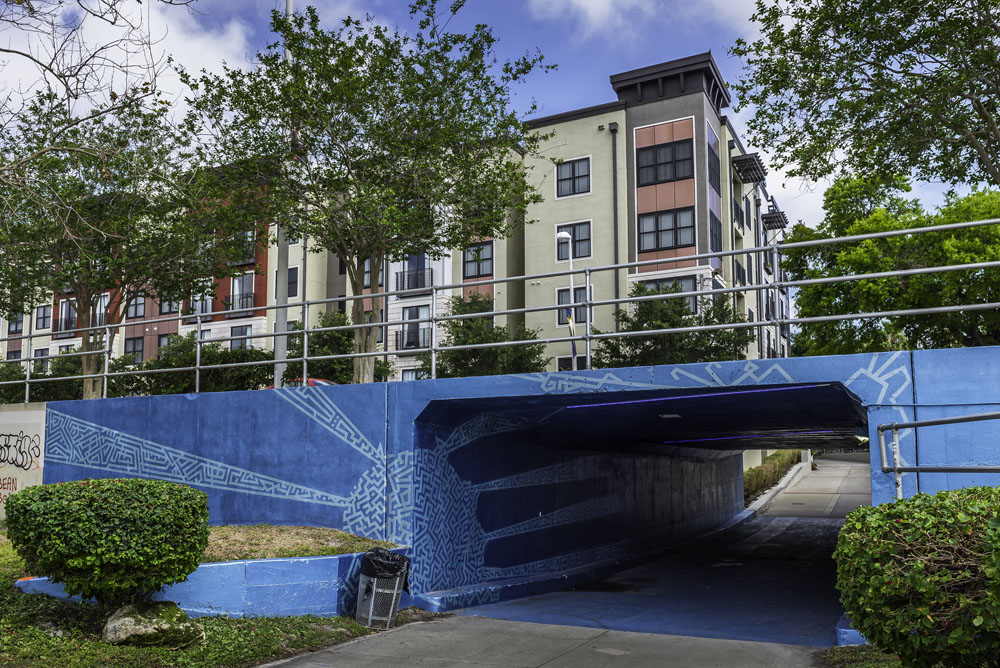 About Ya La Ford
Based out of:

St. Petersburg
Maintaining her studio work in both Tampa Bay and New York, Ya La'Ford is a professor, visual painter, installation artist and muralist, with a MFA from The Art Institute of Boston and a Juris Doctor law degree from the University of Florida for good measure. Her work can be seen across the country from the Boston Public Library to the Dr. Carter G. Woodson African American Museum.
As of October 2018, this work is no longer visible.
Due to damage from graffiti, the artist painted over it. The new mural is
here
.
The Sunnel, by St. Petersburg artist Ya La'Ford, covers the inside walls and ceiling of the pedestrian tunnel between Central Avenue and First Avenue South.
The northern entrance is on Central, down a sidewalk on the south side of the street between 13th and 15th Streets North. The entrance is marked by rows of low, white posts and a sign pointing the way to Tropicana Field.
The Sunnel is an underground tunnel, 90 feet long, a wide horizontal rectangular opening that takes you underneath busy 1st Avenue South, to Tropicana Field – so the Sunnel is a popular way to get to Rays baseball games.
The mural covers the interior of the tunnel, and spreads out across the north and south entrances. The background is a rich royal blue, the color of the Rays' uniforms. Against the blue are geometric patterns made of thin lines of pale light blue. The patterns are Ya La'Ford's signature image – recognizable around St. Petersburg, including the walls of a museum, a library, a downtown hotel and the Morean Arts Center.
On the southwest corner of the Sunnel, wrapping from the exterior wall into the tunnel, is a round sun made of angular patterns, like a maze. The lines that form the sun cross and interconnect, and contain patterns within patterns.
Two thick rays from that sun shoot outside, at the southern entrance. Four long rays spread across the tunnel wall, all the way to the north entrance.
Another, smaller sun is painted in the northeast corner. Hollow triangular shapes fall out of this circle, with lines that are broken and wandering.
Lines from the suns on either side flow across the floor and ceiling.
Lines of thin blue L-E-D lights cross the ceiling.
They serve to light the tunnel when it's dark outside, and enhance the blue of the mural.
It's possible to start from either end of the tunnel and trace the patterns and rays all the way to the other end of the tunnel, and out along the entrance wall.
On the west side of the the north entrance, the artist's name is painted in wide dark brown capital letters.
Ya La'Ford said she aims to change the notion of what art-making means by pulling art off the canvas. For her, the Sunnel is "transformative, so as opposed to becoming a piece on the wall, it becomes something that you actually can immerse into."
"It's activated by you, my viewer," she explains. "You become then the heartbeat, the pulse of my artwork."