Carrie Jadus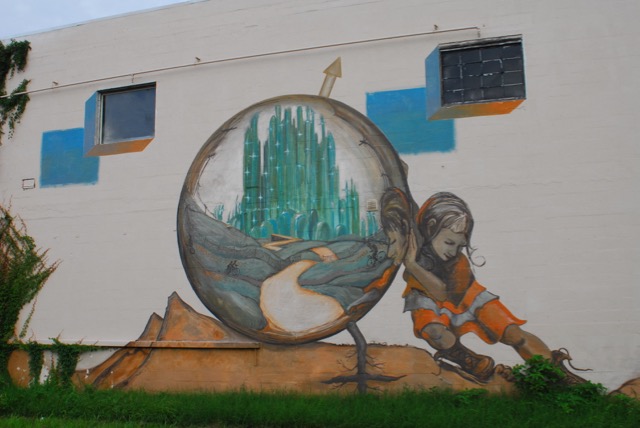 About Carrie Jadus
Based out of:

St. Petersburg, Florida
Local Saint Petersburg artist specializing in local scenes, portraiture, nudes – beautiful artwork. Carrie's work is shown in galleries and belongs to private collections all over the world. Carrie's artwork can be also be found gracing the St. Petersburg Brewing Company logo/label and Saint Petersburg Preservation posters.
Facing the Pinellas Trail at the southwest corner of 22nd Street South and 5th Avenue South, is another work by Carrie Jadus, one she painted using paint left over from the Tesla mural.

Little Miss Sisyphus shows another enormous reflective sphere. This one is being pushed up a mountain peak by a young girl straining with the effort.

The mural is more brightly colored than Tesla. The girl wears an orange shirt and orange shorts with a wide white horizontal stripe, and hiking boots with the laces untied. The shadows cast by the windows overhead are bright blue.

The mountain she is climbing is shown at the very summit, jagged peaks rising out the ground.

Reflected in the sphere is a golden road, winding through a rocky landscape to an emerald city. A thick root grows out of the base of the sphere, and a small pointed rocket angles out of the top.

The image came to Jadus as she was finishing the Tesla mural. Everyone has a burden to bear that never seems to end. But, she explains, it's that burden that often exposes beauty and strength in the world.

The child is strong and she's at peace, almost ready to push her burden off the cliff. The root growing out of the base of the sphere forms a cross, like the traditional symbol for male. The rocket angling out of the top echoes the symbol for female. For Jadus, these are clues to what the child's burden is.

The root growing into the ground also anchors her burden, making the final push depicted in the mural, the hardest.

The reflection seen on the sphere is the girl's vision, the Emerald City. The sphere also reflects the location of the Arts Xchange, a Warehouse Arts District project that's creating affordable studio space for working artists.

You probably noticed that most of these murals in the city are painted by men. But the Tesla Mural and Little Miss Sisyphus were painted entirely by female artists. On these pieces, Carrie Jadus was assisted by Tara Radosevich, Jules Cozine and Suzy Shultz.

If you continue along the Pinellas Trail past Little Miss Sisyphus, in about a block you'll come to a colorful flag on the opposite side of the trail, by Michel Mirabal.