MUSE Arts Ambassador Award Honoree - Katie Deits/Florida CraftArt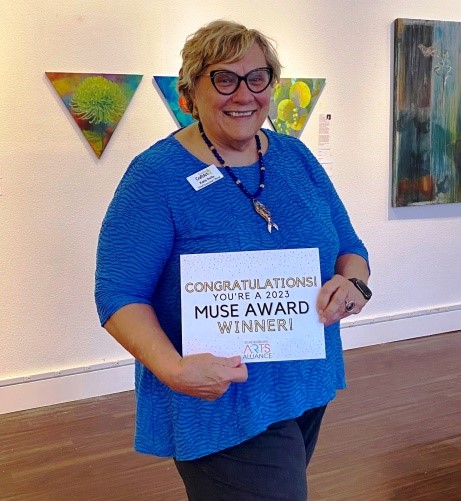 "I was totally SURPRISED and THRILLED to be selected for the St. Petersburg Arts Alliance MUSE award for Arts Ambassador. St. Pete is a great arts destination and I am SO HAPPY to be part of it as the CEO of Florida CraftArt! Many thanks for the honor. 
If anyone wants to come to the huge and REALLY fun party they throw for it, it's March 3."
Katie Deits is an accomplished professional with a background in art, public relations, marketing, and organizational leadership. She is the Chief Executive Officer at Florida CraftArt and a Certified Fundraising Executive. Florida CraftArt aims to grow the statewide creative economy by engaging the community and advancing Florida's fine craft artists and their work. In her seven years as the CEO, she has utilized her creative, fundraising, and nonprofit management skills to grow Florida CraftArt's impact. In addition to her current role, Katie has a wealth of experience in the photography industry. She served as the President of Camera Graphics for 25 years, where she led the largest photographic and graphic arts studio in Palm Beach County. Specializing in commercial, architectural, and aerial photography, Camera Graphics worked with major corporations and industries. Katie is a practicing artists and has also taught photography at Palm Beach State College, Barry University, and the Society of the Four Arts. She advances the community through her membership in a variety of organizations, including the International Association of Art Critics.
See Katie's surprise MUSE Reveal Video here!  https://youtu.be/MV6h8SglO5I 
MUSE Literary Arts Award Honoree - Maggie Duffy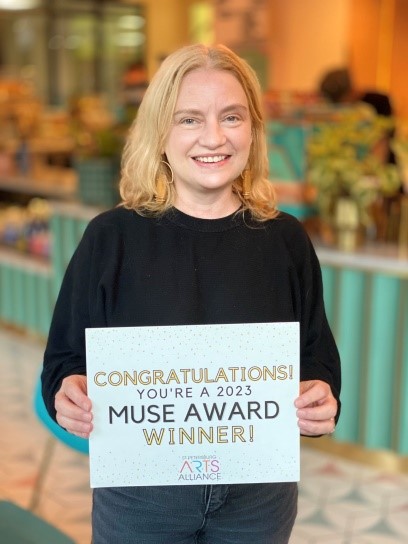 "I'm thrilled to receive this award from the St. Petersburg Arts Alliance," said Duffy, who has worked professionally in the local art scene as a gallery manager and curator. "Covering the arts is a dream job, and to be recognized for doing it is a true honor."
Maggie Duffy is the arts and music reporter for the Tampa Bay Times, covering museum and gallery exhibitions, theater performances and the occasional concert.  A lifelong arts enthusiast, she has a bachelor's degree in art history from the University of South Florida. She previously worked in the local art scene as a gallery manager and curator.
"Covering the arts in our vibrant community is a dream career. I feel so fortunate to live in a city that supports creativity."
See Maggie's surprise MUSE Reveal Video here! https://youtu.be/4cm8ELFP5nQ 
MUSE Patron of the Arts Award Honoree - Belinda Dumont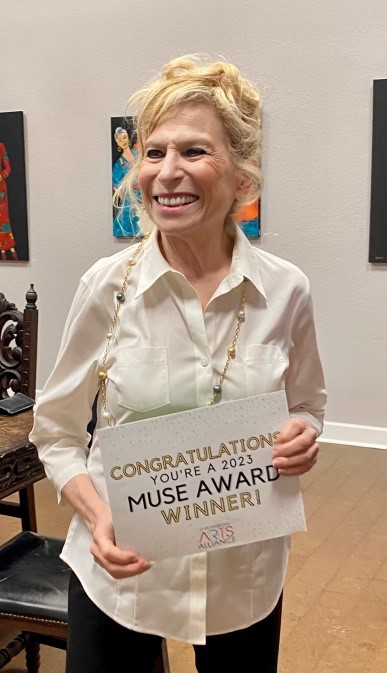 "The main thing about St. Pete is the people, and the Arts. They have always been of the utmost importance to me, and they are all in themselves so very worthy of support."
"For 20 years a supporter of the Florida Orchestra, I've been able to be on their board for many of those years. It was Irene Rubenstein, who funded the concerts in the park along with Helen Torres, who introduced me to the orchestra and their projects. For a year or two I went to all 3 venues and heard all three concerts to raise funds.  A long time ago, 17 years to be exact, I auditioned for Mark Sforzini to sing in his newly formed St. Pete Opera, and to my joy, he hired me, and I've been there ever since, eventually on his board.  I am the retired Director Emeritus of the company.  Every penny you give Mark Sforzini, artistic and executive director, appears on his stage in musical excellence, blinding, surprising, endearing musicianship, beauty and kindness. He auditions here and in NY, but it is set designers and all on and off stage who count as much as the voices. We have artists of that caliber here in St. Pete. 
And there are the visual arts. Long a supporter of the visual arts, I've been on the board of the Museum of Fine Arts in St. Pete for a number of years. It is a joy and a privilege to work with artists and curators almost daily. How could we live without museums and exhibits to go to? We have them here, and we love our artists. Singing, playing, designing, creating, dancing, we are them and they are the soul of this great city. 
My business career began in publishing. I worked for Condé Nast in the 60s and 70s, publisher of Vogue and Glamour and House & Garden, where I worked in fashion and editing and became the producing editor of House & Garden, and edited for Medical World News with McGraw-Hill. The process involved examining and using images, especially photography. From there I went to Wall Street in investment banking, where I had a 20-year career, working for firms such as J.P.Morgan/Chase, etc., where I was privileged to see the rise of computing in electronic markets, ending with 10 years at Bear Stearns & Co., culminating as an associate managing director, at the height of the markets. And yes, I went to or sang in the opera during that time whenever I could.
Most recently, June 2022, I appeared as Duchess of Krakenthorp for St. Pete Opera in La Fille de Regiment, a cameo role, and will do some choral singing in the next production, which will be Beethoven's only opera, Fidelio. Yes, here in St. Pete, at the Palladium. Now that's why we support the Arts! With love to all my fellow musicians, painters, clay artists, singers and dancers, creative artists of every stripe, every kid with paper and a crayon, I am, Belinda Dumont."
See Belinda's surprise MUSE Reveal Video here! https://youtu.be/5yWeF3B1IlQ 
MUSE Performance Arts Award Honoree - Alexander Jones and projectALCHEMY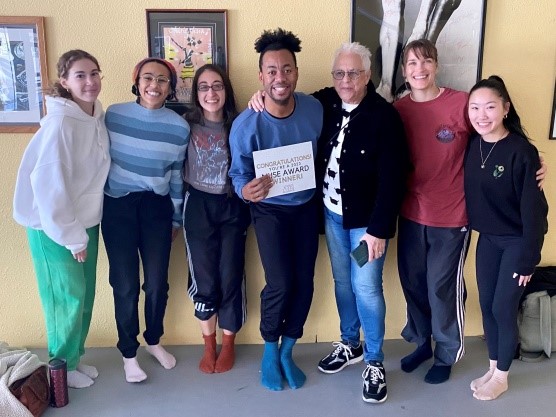 "This is such an honor. Thank you St. Petersburg Arts Alliance and our awesome community support in St Pete"
Alexander Jones, founder and executive artistic director of the downtown St. Pete international nonprofit dance+ company projectALCHEMY, is a graduate of University of South Florida, recent MFA graduate Hollins University studying dance. Jones received training from the LINES Ballet BFA Program under direction of Marina Hotchkiss. He has had the opportunity to work with Alonzo King, Bill T. Jones in Serenade/The Proposition, and Doug Varone in The Rite of Spring. He has performed in Tunisia, Africa with the University of South Florida on behalf of the American Embassy and the Tunisian Dance Federation. A native Floridian, Jones is a proud member of the Actor's Equity Association and current performer at Walt Disney World in stage shows such as Hocus Pocus Villain Spelltacular, A Totally Tomorrowland Christmas, Dream Along with Mickey, Beauty and the Beast Live On Stage . He is an alumnus of ArchCore40 in NYC and works closely with choreographer Jennifer Archibald as her choreographer assistant in the Florida Dance Festival. In 2012, he choreographed and directed his first evening length work entitled First You, Then The Rest at the Studio@620 in St. Petersburg, FL. In the Spring of 2013, Jones joined Yow Dance Company and had the honor of choreographing works for the company for both Spring Into Dance and the Orlando International Fringe Festival. Later that Fall, he returned to the Studio@620 to premiere his second evening-length work, Contact. Jones participated in Project GenYes! at the Studio@620 made possible by the Doris Duke Charitable Foundation premiering his third evening-length work, Uncovered: Power of the Being at the Studio@620. In 2016, Jones became the Artistic Director of Collective Soles Dance making it his mission to connect the Tampa Bay area through collaboration. The following year Alex was one of the resident choreographers at the Florida Dance Festival where he premiered his latest work behind the Front. Jones is on faculty as an adjunct professor at the University of Tampa teaching techniques classes that help students prepare for both concert and commercial stages. Community and collaboration are at the forefront of Jones's dance works with the company, as well as in and around St. Pete. He serves as the Dance Artists in Residence at the Studio@620, assisting in dance programming alongside Bob Devin Jones.
See Alex & ProjectALCHEMY's surprise MUSE Reveal Video here! - https://youtu.be/YRtZZ4NwY78 
MUSE Art & Technology Award Honoree - Mikhail Mansion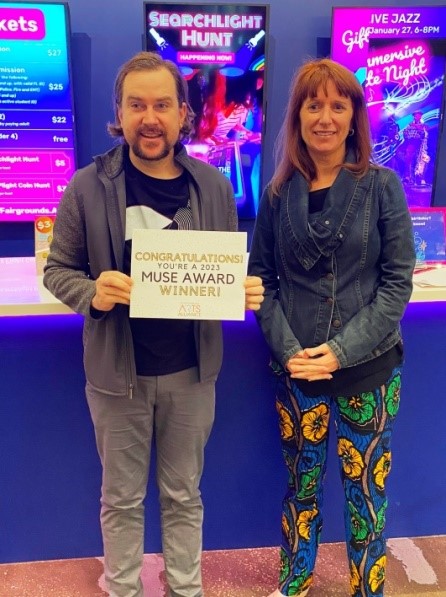 "I'm deeply honored to be awarded this year's Muse Award for Art + Technology by St. Petersburg Arts Alliance. I'm always amazed at the level of support this area extends to the creative community; it's rewarding to know that my contributions are too becoming part of that legacy. Especially proud of my team, and those artists making Fairgrounds St. Pete a leading art and technology destination, and at The Factory St. Pete, The Dalí Museum and also those building Crab Devil over in Tampa (respect). The sky is the limit for Tampa Bay when it comes to art + tech + innovation!"
Mikhail Mansion is an interdisciplinary artist, technologist, entrepreneur and educator. He started his career working on prototype weapons systems in the United States Air Force before transitioning to industry projects. Applying his engineering skills creatively, he developed a range of imaginative projects for clients like Vogue, Forbes, HBO, Samsung, Toyota, Twitter, Google and others. Working across disciplines, Mikhail served as a technology advisor and researcher on several grants by the National Science Foundation, Knight Foundation and National Endowment from the Arts. Now, Mikhail serves as the Co-Founder and Chief Technology Officer of Fairgrounds St. Pete, an immersive art and technology museum that features works by over 60 Florida-based artists. He is also a co-organizer of OK! Transmit, a free and open art and technology meetup, that brings together the art, science, and technology communities to share innovative ideas through talks, presentations, workshops, exhibits, and performances. His passion for art and technology shines through in his work as an educator as well. He is an adjunct professor at Ringling College of Art & Design and the University of Tampa, and has previously taught at a number of other prestigious institutions.
As an artist Mikhail takes interest in using technology to translate the hidden forces and phenomena embedded in the world around us into poetic expressions that invite discovery and play. His work seeks to mix digital and physical forms in order to provide interactive shared experiences that connect people to nature and to each other. His creative work has been exhibited at de Young Museum, Cooper Hewitt, Smithsonian Design Museum, V&A Museum, Renwick Gallery, deCordova, Ringling Museum, Miraikan - National Museum of Emerging Science and Innovation, Biomuseo, LEXUS INTERSECT-TOKYO, Pyongyang Winter Olympics, Currents New Media Festival, Ars Electronica, Meow Wolf among others.
See Mikhail's surprise MUSE Reveal Video here! - https://youtu.be/OsDejI_YVSQ 
MUSE Visual Arts Award Honoree - Catherine Woods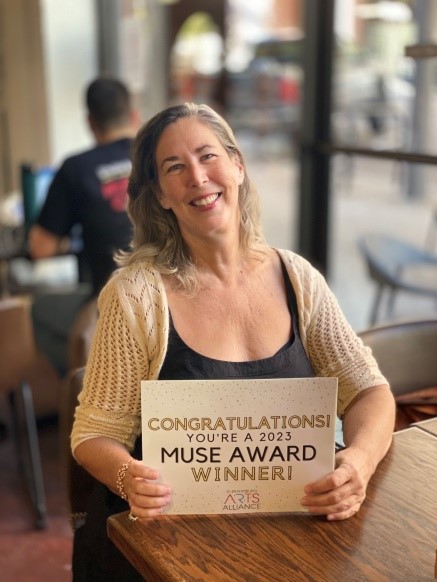 "Surprised and delighted! Having recently installed the SunRunner art glass panels, it is wonderful to be honored at this time. Looking forward to the MUSE party, and sharing the love with my fellow award winners!"
Catherine Woods is a nationally recognized artist known for her large-scale architectural glass and metal installations. She is the principal of C Glass Studio LLC, which has been creating artwork for the public sector since 2002. Catherine's work can be found all over the United States, from St. Pete to Reno, Nevada. She has completed a range of projects, including gateway signature sculptures, suspended artworks, in-ground artworks, and temporary projects, each of which takes into consideration the personality of the community and honors the architecture of the site.
Catherine's work has been featured in national publications such as Sculpture Review and Public Art Review, as well as local publications, Tampa Bay Magazine, St. Pete Life and the Tampa Bay Times. She has been recognized by Americans for the Arts' prestigious public art competition, Year in Review.
See Catherine's surprise MUSE Reveal Video here! - https://youtu.be/KuBKw4Nl9O4 
Sponsors
Thank you MUSE 2023 Sponsors:
Reception Partner
Steve and Marie Beaty
Award Partners
J. Crayton Pruitt Foundation
Dr. Farhan Malik & Michelene Everett
Party Partners
Tom and Sally Baynard
Paul Carder & Jacqueline MacNeil
Green & Henwood Investment Group
Linda and Al Humphers
St. Anthony's Hospital/Baycare