St. Petersburg Arts Alliance Announces the MUSE Award Winners
MUSE celebrated artistic inspiration on Friday, January 30, 2015 at 7 p.m. at the Museum of Fine Arts. The St. Petersburg Arts Alliance's benefit for arts recognized the breadth and beauty of art and culture in our City of the Arts, and pay tribute to five members of the arts community who inspire and guide St. Petersburg to its standing as an international arts destination.
Carrie Jadus, MUSE Visual Arts Award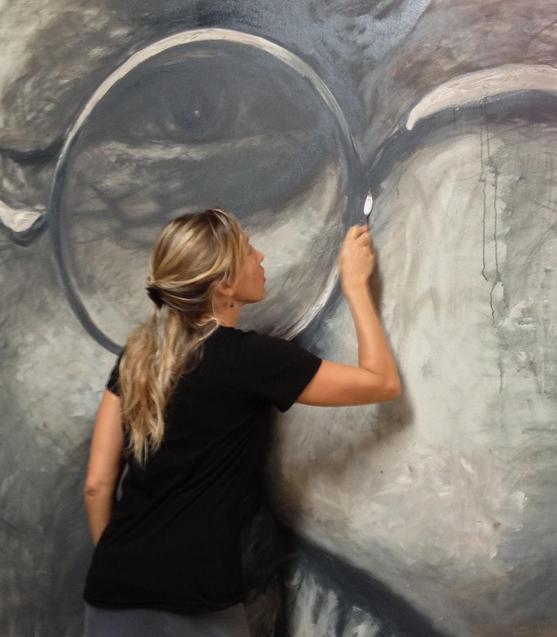 This award recognizes an artist or organization that has achieved excellence in the visual arts which include ceramics, drawing, painting, sculpture, glass-blowing, printmaking, design, crafts, photography, video, filmmaking and media arts.
An electrical engineer-turned-fine artist, Carrie's work is exhibited in galleries and private collections all over the world. From the second floor of Softwater Studios in the Warehouse Arts District, she puts brush to canvas to produce works ranging from stunning commissioned portraits to imaginative posters for Movies in the Park. Her painting of sculptor Mark Aeling's hands was our inspiration for this year's MUSE poster.
American Stage Theatre Company, MUSE Performance Arts Award
This award recognizes an artist or organization that has achieved excellence in the performance art field to include music, dance, theater and/or interdisciplinary which is presented to an audience.
Founded in 1977, American Stage is a regional professional equity theatre that makes top-notch live theatre accessible to all members of the community. In addition to its Mainstage Series in the Raymond James Theatre and the annual American Stage in the Park production each spring, programming includes the "After Hours" Series, the School Tour, Youth/Adult Classes, Summer Camp, and the Teen Summer Institute.
Kristine Radish, MUSE Literary Arts Award
This award recognizes an artist or organization that has achieved excellence in the written word in fiction or non-fiction, poetry or prose, print or digital formats.
Kris Radish is the bestselling author of nine novels and three works of non-fiction. A former working journalist, editor, university lecturer, bureau chief, nationally syndicated columnist, magazine writer, worm picker, and lifeguard-to name but a few of her past experiences, Radish has appeared on national television shows including Geraldo, FBI's Most Wanted, Daytime, City Confidential and On the Case with Paula Zahn. Her next novel, The Year of Necessary Lies, a historical fiction blockbuster set in Florida, will be released in September. She is also co-owner of the Wine Madonna wine lounge in downtown St. Petersburg.
Carol Mickett and Robert Stackhouse, MUSE Arts Ambassador Award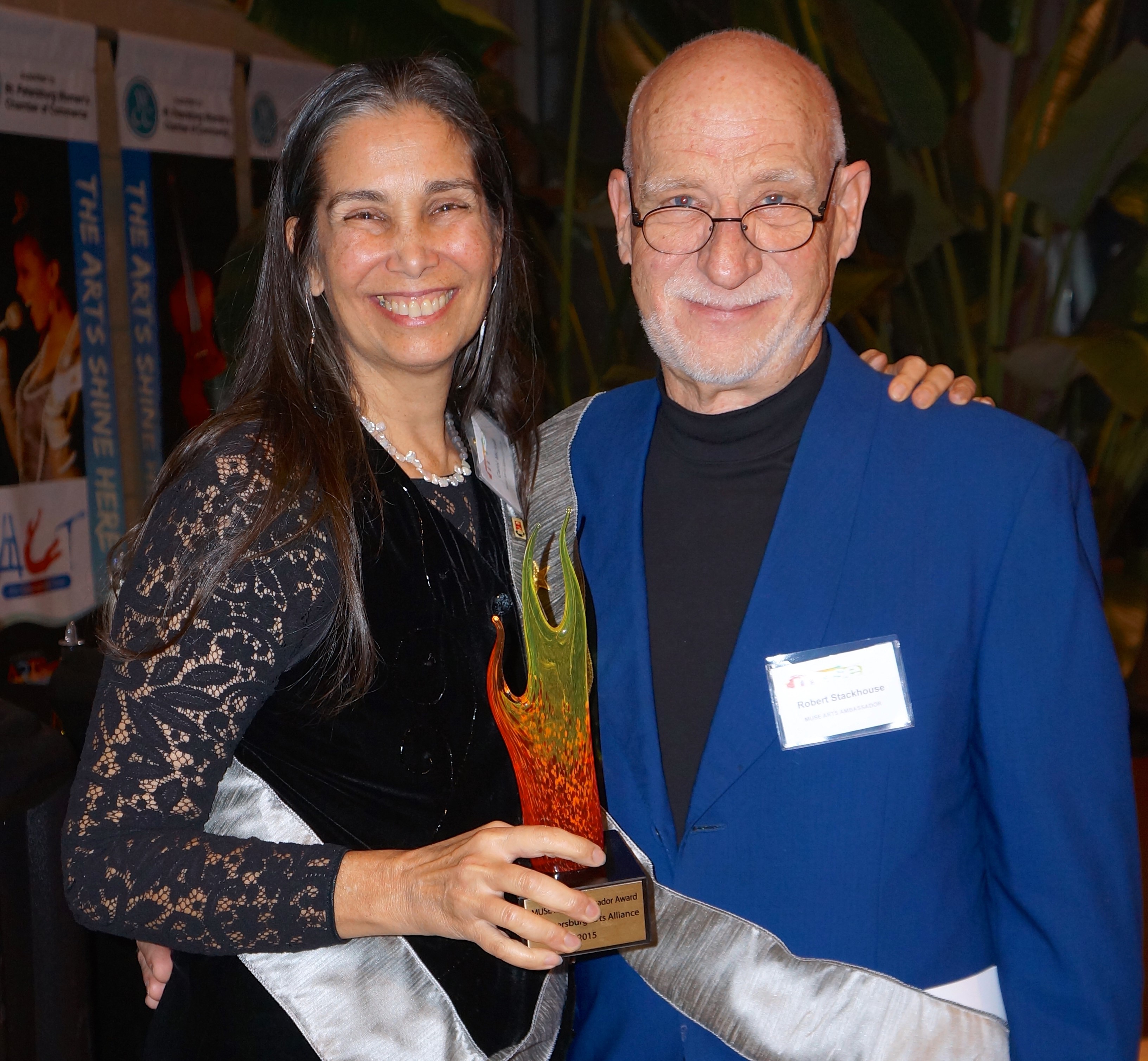 This award recognizes a beloved St. Petersburg artist of any discipline who is a stellar representative of the "City of the Arts" to the world.
Carol Mickett and Robert Stackhouse are visual artists working collaboratively producing paintings, prints, and large-scale site-appropriate architectural sculpture. Museums, private collectors, commercial developers, and state and local governments commission their work. They are currently working on a private commission for the lobby of the new Gateway Plaza Building in downtown Richmond, Virginia, which includes a 72-foot long mosaic and a 43-foot long glass and stainless steel walk-through sculpture. In addition, they are entering the design phase for St. Petersburg's Central Avenue Project creating an illuminated Avenue of the Arts with on-going engagement.
Al May, MUSE Patron of the Arts Award            
This award recognizes an individual or couple who, with their time and treasure, generously supports charities, organizations, and/or individuals that work in or concern the arts.
Al May, retired bank executive, is a life-long resident of St. Petersburg. Al loves the American Stage Theatre Company, freeFall Theatre, St. Pete Opera, the Florida Orchestra and the Studio @620. He currently serves on the Board of the St. Pete Opera and the Advisory Board of the Palladium Theater at St. Petersburg College.
MUSE nominees were solicited from the public through the Arts Alliance website. A committee comprised of local artists, former MUSE Award winners, local museum, gallery and arts nonprofit leaders, and members of the Arts Alliance Board and the Arts Advisory Committee decided winners.
MUSE AWARD SPONSORS
Regions Bank
Valpak | Cox Target Meida
Englander Fischer Attorneys
Eagle Datagistics 
MUSE SILENT AUCTION DONORS
American Stage
The Birchwood
John Collins
The Dali Museum
Florida CraftArt
Florida Holocaust Museum
The Florida Orchestra
freeFall Theatre Company
Great Explorations Childrens Museum
D. Yael Kelley
Dale Lappe
Duncan McClellan
PARTY SPONSORS
Transamerica
Pinellas Education Foundation/Bill and Jeanne Heller
Hill Ward Henderson/Sandra Ransdell 
MUSE SILENT AUCTION DONORS
Morean Arts Center
Museum of Fine Arts
Charlie Parker
Renaissance Vinoy Resort and Golf Club
Jim Rolston
A Simple Theatre
St. Petersburg City Theatre
St. Petersburg Museum of History
St. Petersburg Opera Company
Sushi Inc.
Viktoria Richards Chocolates
Kyu Yamamoto
CABARET PARTNER SPONSORS
Demonstrate your support – be the first Cabaret Sponsor
IN-KIND SPONSORS
HD Interactive
Humanitea
J.L. Event Production
Lina Texeira, Wearable Art
St. Petersburg Museum of Fine Arts
St. Petersburg Chamber of Commerce
Vibe Digital Media
Tampa Bay Magazine
Tampa Bay Times