The biennial Preserve the 'Burg Preservation Awards were held March 19 to honor those who invest in keeping St. Petersburg special.
The St. Petersburg Arts Alliance is proud to announce that the SHINE® Mural Festival received the Award of Honor for Activating Historic Spaces!
Jenee Priebe, SHINE Program Manager, accepted the award on behalf of the Arts Alliance and the SHINE Steering Committee during this wonderful event held in the historic Cathedral Church of St. Peter.
Since 2015, SHINE has colorfully contributed to the unique vibe we all know and love in St. Pete. Through public art, our annual mural festival continues to encourage residents and visitors to explore and appreciate spaces in our city that may otherwise go unnoticed. From industrial buildings in the Warehouse Arts District to the culturally significant underpass of the Deuces Live, SHINE is honored to be recognized for its impact in St. Petersburg.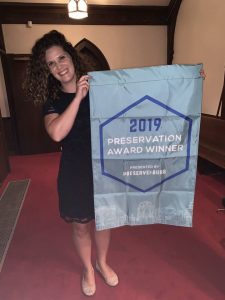 Many thanks to Preserve the 'Burg for this award and thank you to the City of St. Petersburg for their ongoing support of SHINE.