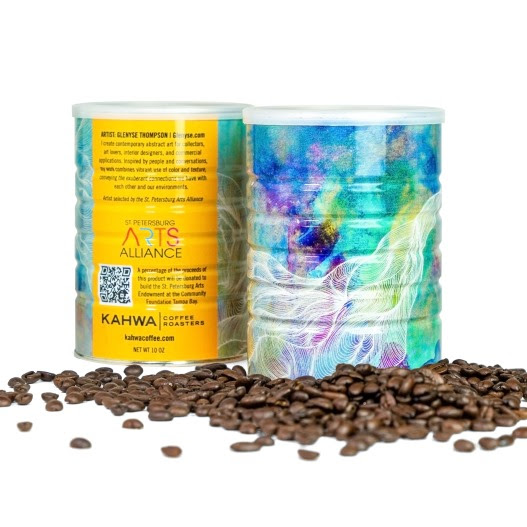 "I create contemporary abstract art for collectors, art lovers, interior designers, and commercial applications. Inspired by people and conversations, my work combines vibrant use of color and balance, conveying the exuberant connections we have with each other and our environments." - Glenyse Thompson
Gifting an Art Wrapped Coffee Canister is the easiest - and tastiest - ways to support your local artists!  Your friends, family, colleagues, and employees will enjoy a cup of Kahwa Coffee while proudly displaying a piece of art by local artist Glenyse Thompson in their home or business.   Glenyse's particular design is a special, limited-time offer.   New artists will be announced every season!
Purchase one today!
These canisters, filled with delicious Kahwa Sirocco Blend Coffee, are just $24.99!  
Art Wrapped Coffee Canisters continue to give back, even after the coffee is gone! Empty canisters can be refilled with any coffee at any Kahwa location for just $10! 
Net proceeds of the canister benefit St. Petersburg Arts Endowment at the Community Foundation of Tampa Bay! 
Click here to purchase your art wrapped canister!
Learn about the St. Petersburg Arts Endowment 
In December 2015, the St. Petersburg Arts Alliance (SPAA) established an arts endowment fund at the Community Foundation Tampa Bay. The purpose of the fund is to ensure that the arts community has a resource available for sustainability. SPAA's role is to raise these funds and work with the city to award grants, through its Arts Advisory Committee to our arts community. This advisory committee will be gathered through a grants process, as laid out in Chapter 5 of City Ordinances. 
As an organization that advocates for all the arts within St. Pete, we want to ensure that our efforts go towards building the resources for the future.  This fund will assist with many different needs for the arts community.  This is how the visual and performing arts community will grow.  Encouraging public support for this endowment is a key element, so that arts within St. Petersburg has wide community involvement.  Kahwa Coffee understands the importance of the arts within St. Petersburg and has stepped up to make this collaboration possible.  Without their vision and interest in supporting the arts, this project would not be possible.
"We are thrilled to be partnering with SPAA and look forward to the future collaborations with artists in community. We are fervent supporters of the arts in St. Petersburg." - Sarah Perrier, co-founder of Kahwa Coffee.