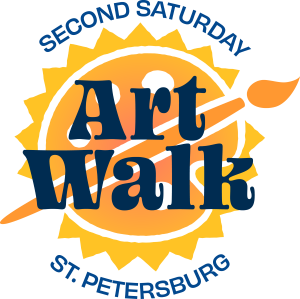 Join us every Second Saturday of the month!
Second Saturday ArtWalk is where the Central Arts District, Grand Central District, Warehouse Arts District, Uptown Arts District and downtown Waterfront District come together as ONE ARTS DESTINATION with many venues hosting the opening night of their latest exhibit. 
Galleries and studios are open from 5-9pm happily waiting for your exploration, conversation, purchases and inspiration!  For some venues, this is the ONLY time the public can visit.
Discover wonderful surprises, visit your favorite artist, or find a new one. Make an evening of it and stop for dinner, drinks or dessert at a local restaurant.
Details about what's happening at each venue are updated one week prior to ArtWalk.  Just click the red button above.
Parking
On-Street Parking - Across St. Pete, on-street parking is designated as metered, time-limited, by residential permit only, or free (no signage).
Public Garages & Lots - St. Pete offers several public parking garages and lots around the downtown area that offer daily, monthly, and special event parking. Learn more about Public parking garages.
The new Sunrunner also has stops close to the ArtWalk Trolley Route. Find out more here.
Preview Videos
Also, check out our new Curate St. Pete | Virtual Gallery Tours of some of your favorite ArtWalk venues!
The St. Petersburg Arts Alliance coordinates the St. Petersburg Second Saturday ArtWalk with the EDGE District, the Grand Central District, and the Warehouse Arts District associations.
Shop Local!
Join us in advocating for the arts, facilitating the growth of our arts community, and driving arts-related economic development in St. Petersburg.
Produced with the support of the National Endowment for the Arts, Creative Pinellas and the Pinellas County Board of County Commissioners.  Second Saturday ArtWalk is a St. Petersburg Arts Alliance economic strategy to develop small businesses.
Would you like your studio/gallery included in ArtWalk? Click Here