D YaeL Kelley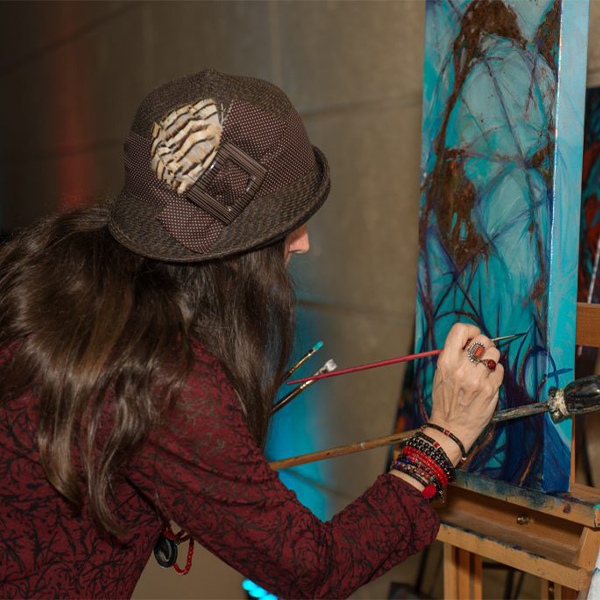 "My work explores the Organic through an Expressionist lens. After years of working in a traditional manner, I have intentionally abandoned those methods to search for what is beyond.

"I find my inspiration all around me, in stones, shells, the movement of the air and in the shadows as they play across the ground. I explore transcendence, inner journeys and earth connections. Working in oil, my method involves layer upon layer of thin glazes, incorporating powdered pigments, gold and silver leaf. I open myself to the painting allowing it to guide me, like having a conversation. My work is deeply personal, coming from my own journey, but it is the experience that you as the viewer have with the work, what you see, what you feel, that is most important to me as an artist.

"Listening to inner voices, searching for that perfect pure color, that exact line, the precise curve, stroke, movement of the brush. What do I want from my work? I want to stand across the room and see truth looking back from the canvas."

YaeL Kelley lives and works at her studio in the Artist Enclave of Historic Kenwood in St. Petersburg.

Selling her first works at age 14, her eclectic heritage: a colonial family with Cherokee, Scots Irish and German ancestry strongly influence her current explorations. Born on the Ohio River valley, growing up in Florida, she has lived in England, Arizona and Texas. While in England she attended Suffolk College of Art and Design.

Working in the visual arts, museums and in the theatre, her career in the arts spans more than 40 years as a professional painter, arts advocate and certified instructor/demonstration artist for several major arts manufactures, which include Crayola Crayons, Winsor and Newton, and Daler Rowney.

She is a past president and artist in residence of the Center for Contemporary Arts of Abilene, past vice-president of the Texas Visual Arts Association, served the city of St. Petersburg on the Arts Advisory Committee, the Mayor's Transition Team for Arts and Culture and the board of the St. Petersburg Arts Alliance.

YaeL has enjoyed many solo shows and group exhibitions throughout her career and is represented in St. Petersburg by Red Cloud Indian Arts Gallery. Her paintings are in collections internationally.