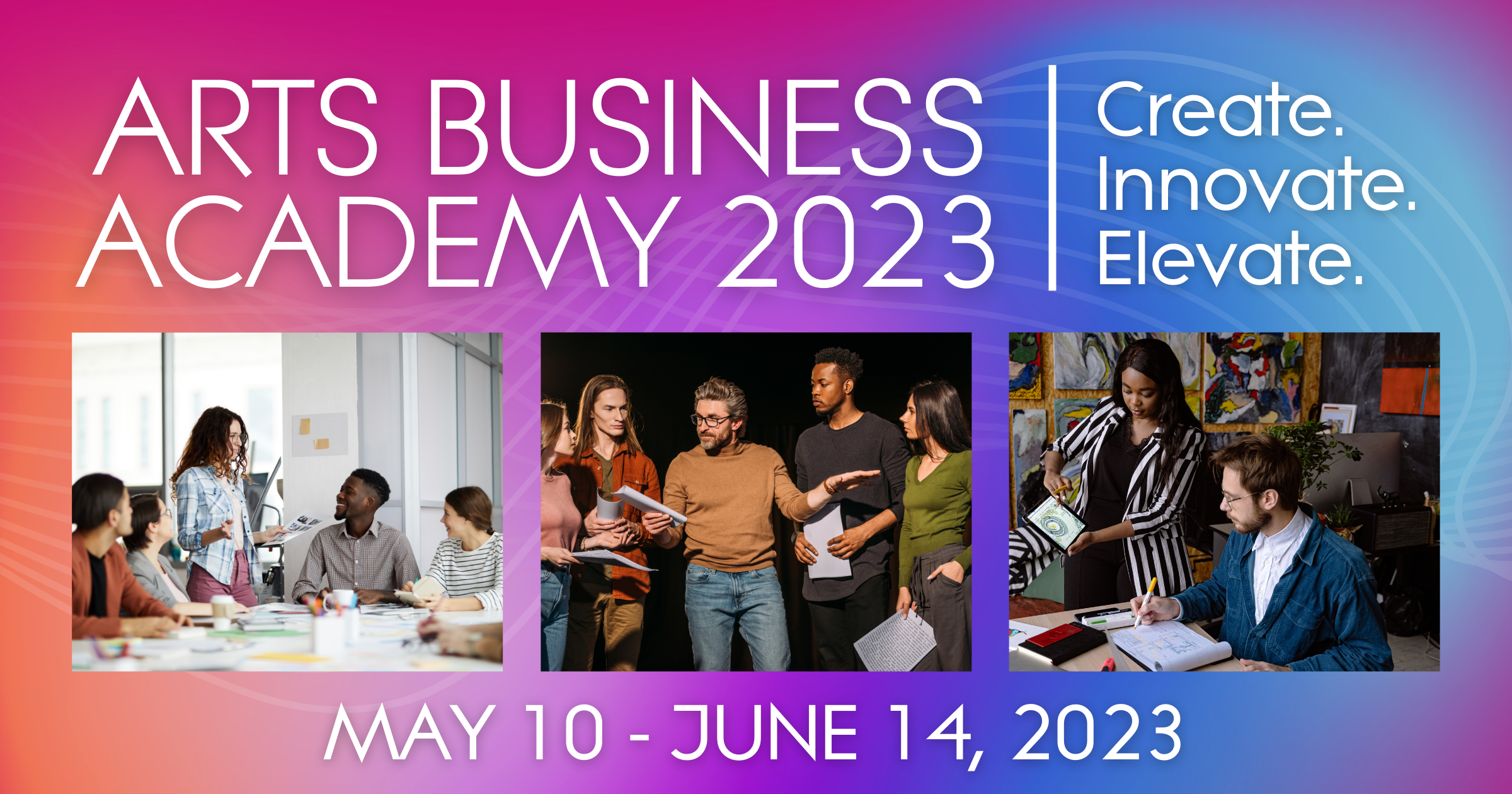 St. Petersburg Arts Alliance presents the annual Arts Business Academy (ABA) Program that will provide artists, musicians, writers, performers, and more with the skill sets and confidence to launch or elevate their professional career or arts business. 
Local arts professionals and business leaders will provide the training through 6 consecutive weekly sessions on Wednesday evenings. Most classes will be held in-person, with key sessions hosted virtually. Certain sessions will also be split into two cohorts with separate instructors/experts for visual artists and performing/literary artists.
Other benefits:
Forge connections with other arts-entrepreneurs

Get to know local arts, education, and business organizations and resources (such as SPC, St Pete Chamber of Commerce, etc)

Connect with and learn from instructors who are local experts in their field

ABA students also receive waived admission to the new Beyond Arts Business Academy (BABA) 2023-2024 virtual workshops: one-off sessions held throughout the year that build on the skills learned in ABA. Topics for these mini sessions include "How to Break Into the St Pete Arts Scene," "Taxes Made Easy, "Health Insurance for artists," and more.
Who is this program for?: Artists (visual, performing, and/or literary) endeavoring to sustain and grow a successful creative profession - whether it be as an individual contracted artist, or a separate creative entity. This program is especially great for those who wish to connect with experts and peers local to St Petersburg, FL. If you are considering evolving your talent or vocation into an arts business, this certificate course will give you the tools to succeed. It is also great for arts-entrepreneurs seeking to foster new and aligned collaborations.
Dates/Times: 6:30pm-8pm, May 10 through Jun 14, 2023 (Virtual Orientation on May 3, and Graduation Celebration on June 21) 
Locations: Most sessions are offered in-person at different locations around St Pete, with key sessions hosted virtually. 
Tuition: $199/person
*****Limited full scholarships are available to artists with financial need*****
Learn more about your 2023 ABA instructors!
Enrollment Closed
To inquire about enrollment, email tiffany@stpeteartsalliance.org
Scholarships Available! 
If you have missed the scholarship deadline but would still like to inquire about financial aid, please contact tiffany@stpeteartsalliance.org.
Sessions & Dates:
Session 1 - May 10
Defining Your Brand, with Matt McGee & Julia Howard
In this session, students will set goals for their entity, whether they are interacting as a creative business or as an individual artist. They will explore and clarify questions like: Who/what are you as an artist? What are your sell-able activities/products? What are your core values as a professional artist? Students will also learn how to create a "brand filter." This process is essential, and will help students determine how to represent themselves across various aspects of their work: from portfolios/resumes, to conversation/elevator pitches, to securing funding support and selling/booking work.
For this session, the cohort will split into two class sections in order to cover genre-specific approaches.
Instructors:
Cohort 1 (for Visual Artists):
     Instructor: Julia Howard, The Dali Museum
     Location: The Dali Museum
Cohort 2 (for Performing & Other Artists):
     Instructor: Matthew McGee
     Location: freeFall Theatre
Session 2 - May 17
Setting Up A Business Entity, with Eve Epstein
In this session, students will learn the steps for setting up a business entity, and explore the differentiation options/ variations to determine what type of entity would work best for them. This includes an overview of tax policies and procedures, EIN numbers, insurance needs, and what to look for when choosing/opening a business banking account. This also includes procedures around 1099s & invoicing.
Instructor(s): Eve Epstein
Location: Virtual (Zoom)
Session 3 - May 24
Arts Finances, with Stephanie Gularte & Jim Woodfield
Your finances tell the story of your business, and your budget can be used to outline goals and achieve growth. In this session, students will learn how to budget for a successful arts business. This includes basic tools and templates, ways to diversify income, and determine pricing. Creating and interpreting contracts will also be explored, in addition to negotiation and overcoming pricing/rate objections.
Instructors:
Cohort 1 (for Visual Artists)
     Instructor: Jim Woodfield
     Location: The Morean Art Center
Cohort 2 (for Performing Artists & Other)
     Instructor: Stephanie Gularte
     Location: Virtual (Zoom)
Session 4 - May 31
Marketing & Communications, with Kelly Pyper & Lindsay Perry from Pyper, Inc
In this session, students will learn how to use marketing & communications tools to connect with the community, extend their brand, and build success. This includes website development, media releases and media pitches, creating powerful social media, how to create effective email marketing campaigns, and how to use images to stand out and be recognized across communication platforms.
Instructor(s): Kelly Pyper & Lindsay Perry from Pyper Inc
Location: Eckerd College
Session 5 - June 7
Grants & Awards with Terry Marks & Jenna Felder
In this session, students will gain understanding of the grant and award opportunities available to them, and the impact these projects and collaborations can have on their success. This will include an overview of where to research opportunities, interpreting what fits with your work and goals, and the basics of writing grant proposals. Tips and tricks will also be provided on how to gather work samples specifically for grants, and approaches to accepting feedback from funding organizations or committees.
Instructors: Jenna Felder & Terry Marks
Location: Eckerd College


Session 6 - June 14
Community Connections, with Erica Sutherlin
This session will explore the responsibility of the artist to support and reflect equity, diversity, and inclusion through cultural and community connection. Students will learn how to build cultural competence that informs their perspective and their art, how to make their work accessible, and key ways to collaborate/be involved in the community.
Instructor(s): Erica Sutherlin
Location: in-person, TBD
Other Dates to Note:
Orientation - May 3, virtual - An introduction to Arts Business Academy in which students get to know each other, their instructors, and the overall goals and expectations for their time together.
Graduation Celebration - June 21, in-person - An informal, in-person gathering to celebrate the growth and achievements of the students, and provide resources for continuing their professional development.